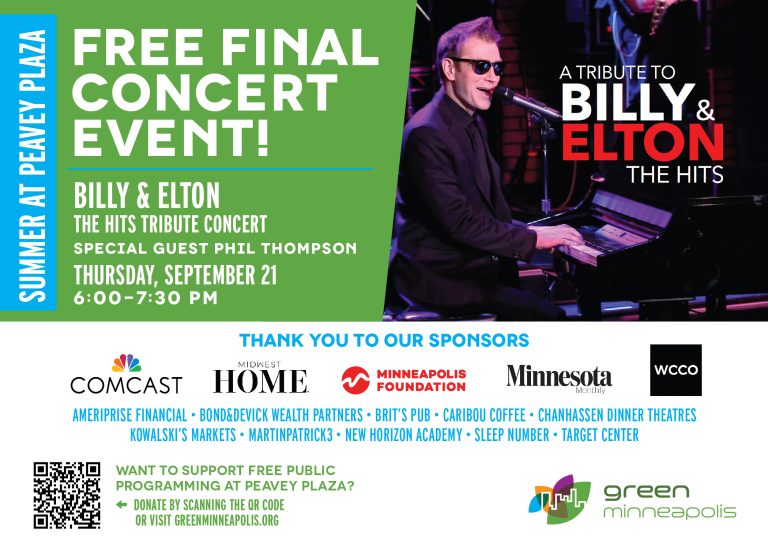 Green Minneapolis is excited to announce our second year of free performing arts events, Summer at Peavey Plaza! – an outdoor series of over 100 free performances, from live music to dance, including our 2023 artist in residence, Phil Thompson. Phil is an internationally recognized singer and piano player known for his performances of everything from Billy Joel and Elton John to country western and 80's hits.
From May through September, Peavey Plaza will be the Twin Cities' best place to go for free music, dance and theater performances in a beautiful outdoor setting. Join us every Wednesday and Thursday lunch hour for performances by MNspin artists and every Saturday morning for Music in Motion with the Children's Theatre Company, perfect for young audiences. And don't miss the Peavey Plaza Piano Bar brought to you by Phil Thompson every Tuesday afternoon and his Tribute Concerts the last Thursday of the month.
Additional performing partners include the Minnesota Orchestra, Cantus, ARENA DANCES, MIRAGE Performing Arts, Joe Davis & The Poetic Diaspora, The Minnesota Horn Quartet, and new partners including James Sewell Ballet, Threads Dance Project and the Pan Asian Arts Alliance. Funding for this programming is made possible by charitable contributions to Green Minneapolis.
For those who want to break a sweat at Peavey Plaza this summer, you can join the YWCA Minneapolis every Wednesday evening for free Yoga in the Plaza from May 24 to October 11 and the James Sewell Ballet for improv jams and movement classes in September.
Summer at Peavey Plaza! on the news
Thank you to our sponsors: Ameriprise Financial • Bond&Devick Wealth Partners • Brit's Pub • Caribou Coffee • Chanhassen Dinner Theatres • Comcast • Kowalski's Markets • MARTINPATRICK3 • Midwest Home • Minneapolis Foundation • Minnesota Monthly • New Horizon Academy • Sleep Number • Target Center • WCCO
Want to support Peavey Plaza Programming?  Please consider a donation to Green Minneapolis using the donate button below. 
Designed by renowned landscape architect M. Paul Friedberg, Peavey Plaza opened in 1975. A notable example of modernist architecture, it was added to the National Register of Historic Places in 2013. 
Image by M. Friedberg & Associates, 1975. 
Demonstrating the power of a true public-private partnership, Green Minneapolis has spearheaded the $12 million fundraising campaign to revitalize Peavey Plaza, with contributions from the City of Minneapolis, State of Minnesota and many private donors. To date, $10 million has been raised.
The design team, led by Coen+Partners, facilitated a project that celebrates the Plaza's historic modernist design, enhances sustainability and makes the Plaza accessible to all.
Peavey Plaza is operated and programmed by Green Minneapolis on behalf of the City of Minneapolis. Green Minneapolis raises funds to support the Plaza's annual budget and is responsible for the work it takes to keep Peavey Plaza safe, active and well-maintained.
City of Minneapolis • State of Minnesota • Al and Kathy Lenzmeier • Dennis and Nora Hunchar • Ameriprise Financial • Carlson Family Foundation • David A. Wilson and Michael J. Peterman • Page and Jay Cowles • Julia W. Dayton • Kelly and Connie Doran • Nivin and Duncan MacMillan Foundation • Margaret V. B. Wurtele • Ned Abdul • Opus Foundation • Paul and Mary Reyelts Family Foundation • Piper Sandler Companies • The Pohlad Family • Target • U.S. Bank • M. A. Mortenson Company • Bob and Nancy Anderson • Peter Hendee Brown and Anna Larsson