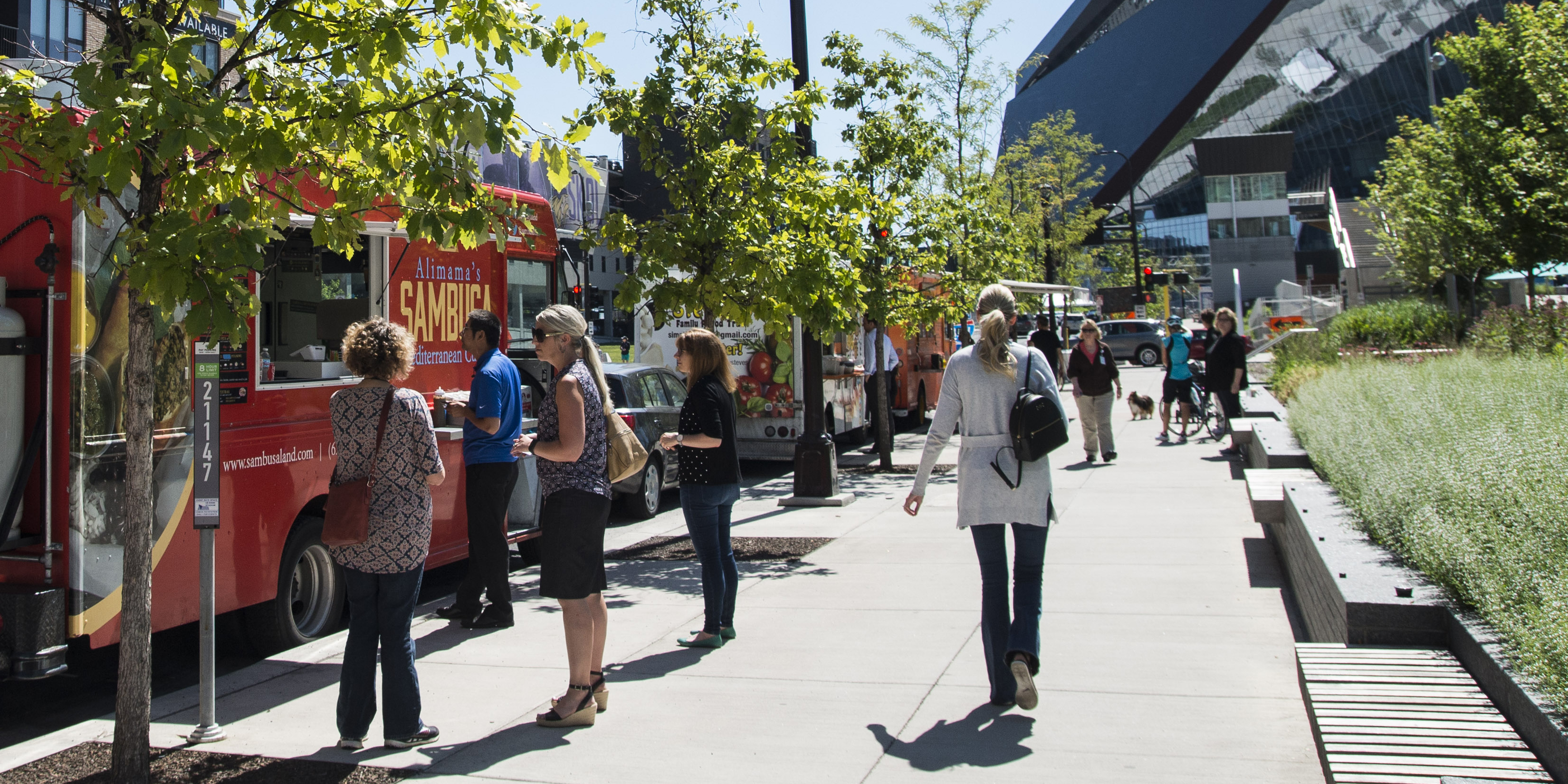 growing our downtown forest
Downtown Minneapolis has been the donut hole in the city's tree canopy for generations. Not enough trees have been planted, and too many of the trees that have been planted haven't survived and matured. This has serious implications for public health, the urban heat island effect, our natural environment, and the beauty of our public realm. Downtown's dense urban environment poses greater threat to fledgling trees, in the form of less water, and more heat, wind, road salt and damage potential than trees in other neighborhoods. As a result, these trees need more support. Greening Lab was formed to incite a rising tide of support and investment to change that.
Starting in 2017, Green Minneapolis has partnered with DID and the Minneapolis Park and Recreation Board on Greening Lab, a series of tree pilot projects geared to support the young trees planted downtown. Additional funding is contributed by the Mississippi Watershed Management Organization, the Downtown Minneapolis Neighborhood Association and individuals. Greening Lab is gathering critical data on the most effective ways to ensure that new trees thrive.
GETTING TO KNOW
GREENING LAB
BECOME A CITIZEN SCIENTIST!
We've teamed up with the experts at the Mississippi Watershed Management Organization to give YOU the tools to assess tree conditions in your own backyard.
Participants receive a FREE Greening Lab Discovery Kit, including materials and instructions to assess tree health, measure tree diameter, take soil moisture readings and submit soil samples. Fun and family-friendly.
We identify trees with tags to draw attention to our newest trees. It enables anyone to learn more about the individual tree and the benefits it generates, and report maintenance concerns.
When you see a tree tag downtown, give that tree a shout! Text a tree, learn more about it, and use the hashtag #greeninglab to raise awareness that our plucky young trees are part of a growing downtown Minneapolis forest.
Returning Spring 2021!
Use a cell phone and your knowledge of downtown sites to find 10 tree tags between the Mississippi River and Hennepin-Lyndale Crossroads. Each tag will prompt you to text to learn about the street tree conditions at that particular site and provide the next clue. Exploring the 1.8 mile route is a fun afternoon activity for kids and families. Find 4 or more clues and receive a free tree-lover prize!
We measure, track, and record detailed information about the performance of 6,400 trees downtown.
Young urban street trees need much more water than they've typically gotten downtown. A lot of concrete, road salt use, heat island and wind tunnel effects all contribute to a challenging hot and dry environment. In addition to the 375 trees watered by DID-maintained irrigation systems, Greening Lab waters all other new trees within the combined boundaries of DID and the Downtown Minneapolis Neighborhood Association weekly.
Standards for the quantity of planting or structural soil surrounding each new tree site have been raised dramatically, and soil sensors are being piloted to learn more about nutrient, water and salinity conditions.
With more financial support, Greening Lab could expand to serve more of downtown's neighborhoods. Donate now!