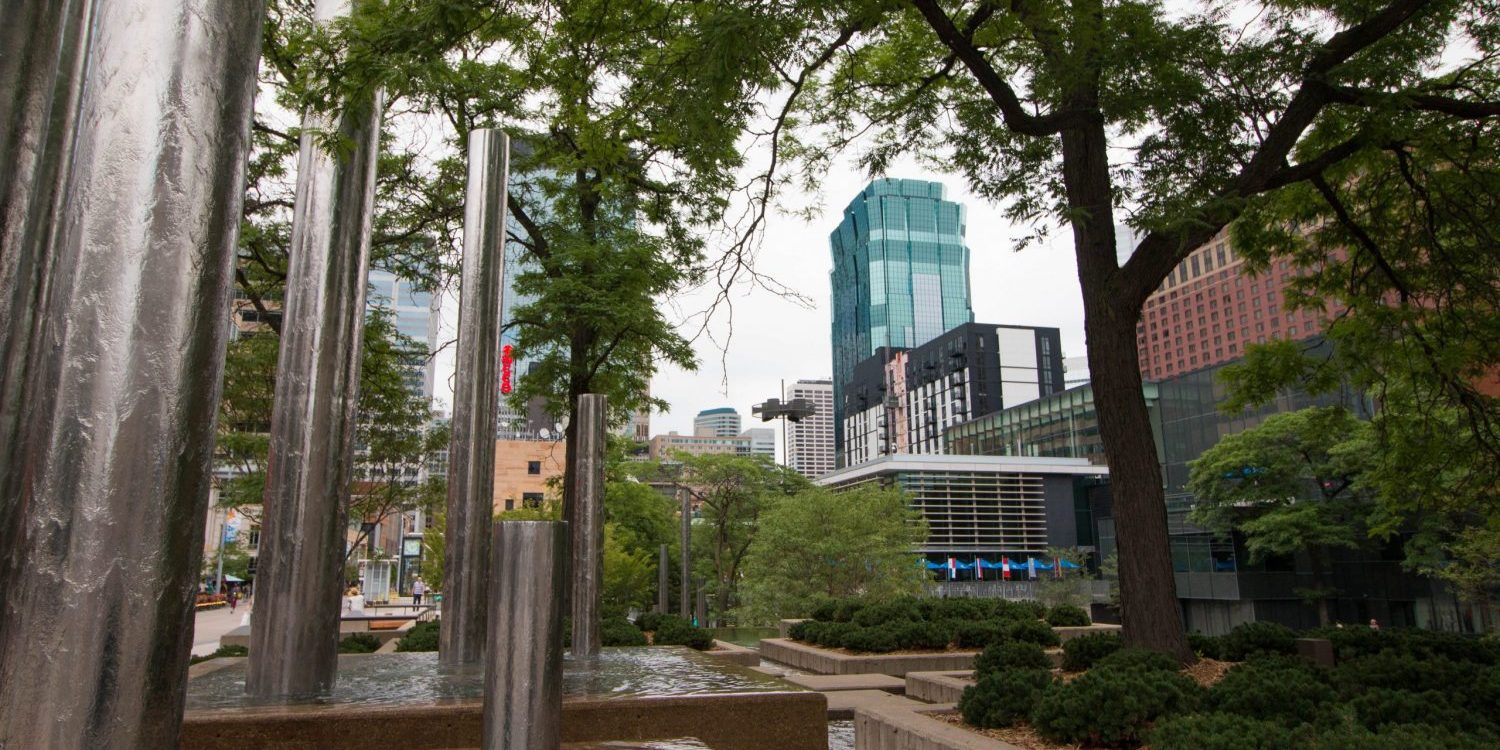 Hours of Operation:  6 am – 10 pm, unless otherwise posted. 
Accessible pathways must remain free, clear, and unobstructed always.
Onsite tables and chairs may be moved or repositioned within the Plaza, but may not be placed on the sidewalk or removed from the Plaza. 
Garbage and recycling bins are located onsite for your convenience and should be used for all trash including food waste, dog waste, and recycling. 
Do not enter flowerbeds and landscaped areas, or place anything within these areas.
Peavey Plaza is a tobacco-free premises; no smoking or e-cigarettes.
Be respectful of other Plaza visitors and keep noise to a minimum.
No roller skating, rollerblading, bicycling, skateboarding or using other similar equipment. 
Do not feed birds or other wildlife.
Visitors may wade in the basin. Entering other fountain areas, washing, bathing or floating items in the water is prohibited.
Throwing coins or other objects in the water, or attempting to remove existing coins or other material, is prohibited.
Pets must be leashed and kept in close proximity of owners; please pick up all pet waste, and deposit in trash bins.
Glass containers and alcoholic beverages are prohibited unless sold by permitted vendors.
Children must be closely supervised by an adult.
No camping.
Follow posted signage and staff direction at all times.
Do not enter areas of the Plaza that are temporarily closed for safety reasons, construction, maintenance, or closed to the public for private events or otherwise.
Drones or other remote-controlled aircraft only allowed with proper permits and licenses.
Permits are required for activities such as, but not limited to, amplified sound, commercial activities, erecting structures, etc.
Restrooms are generally open 8am – 8pm, however hours may vary.
Restrooms may be closed for cleaning or maintenance.  Please obey any posted signage. 
Please be considerate of others and limit use to 5 minutes. Staff may conduct a wellness check if restroom is locked for more than 10 minutes.
Single-occupancy, unless caregiver assistance is required.
No bathing or washing clothes.
Smoking, tobacco, e-cigarette and drug use prohibited.
Users must abide by Peavey Plaza rules and City ordinances and regulations.
Permits issued by Green Minneapolis are required for the following activities. Some activities may also require City issued permits.
All events, defined as any commercial activity, a gathering utilizing reserved space, or an activity including 20 or more people
Fireworks, open fires, and grills
Amplification of music, electronic sound or voice
Flying drones or other remote-controlled aircraft
Erecting or stationing any tent, canopy, stand, stage, tower, scaffold, platform, or other equipment or structure
Selling, providing or sampling food, beverages, merchandise or services
Erecting or displaying permanent or immovable works of art, leaving art unattended, or affixing art to Peavey Plaza property
Commercial film and photoshoots
Operating or parking motor vehicles
Busking or performing to solicit donation